Keeping the supply chain strong means meeting the specific and unique needs of every customer. We are often asked if we are equipped to properly handle certified kosher truck shipments.
At Bay & Bay, we have years of experience in certified kosher truck shipments. Maintaining the integrity of kosher goods does not just stop at production. Transporting with the proper care is of the utmost importance. Here are the specific steps we take at Bay & Bay to honor every kosher shipment.
· Kosher Certification and Regulation
Select Bay & Bay dry tanks are approved to haul kosher goods. We are proud to be endorsed by United Mehadrin Kosher (UMKosher.) Under their proper supervision, we are certified to transport kosher truck loads. Please reach out to our team to responsibly handle your next kosher shipment.
Designated Equipment
Our food grade tanks are dedicated for specific products. This includes our tanks and trailers reserved for kosher shipments only. There is no need to worry if our tanks or trailers were previously hauling lard or other non-kosher ingredients. Enjoy the Bay & Bay transparency!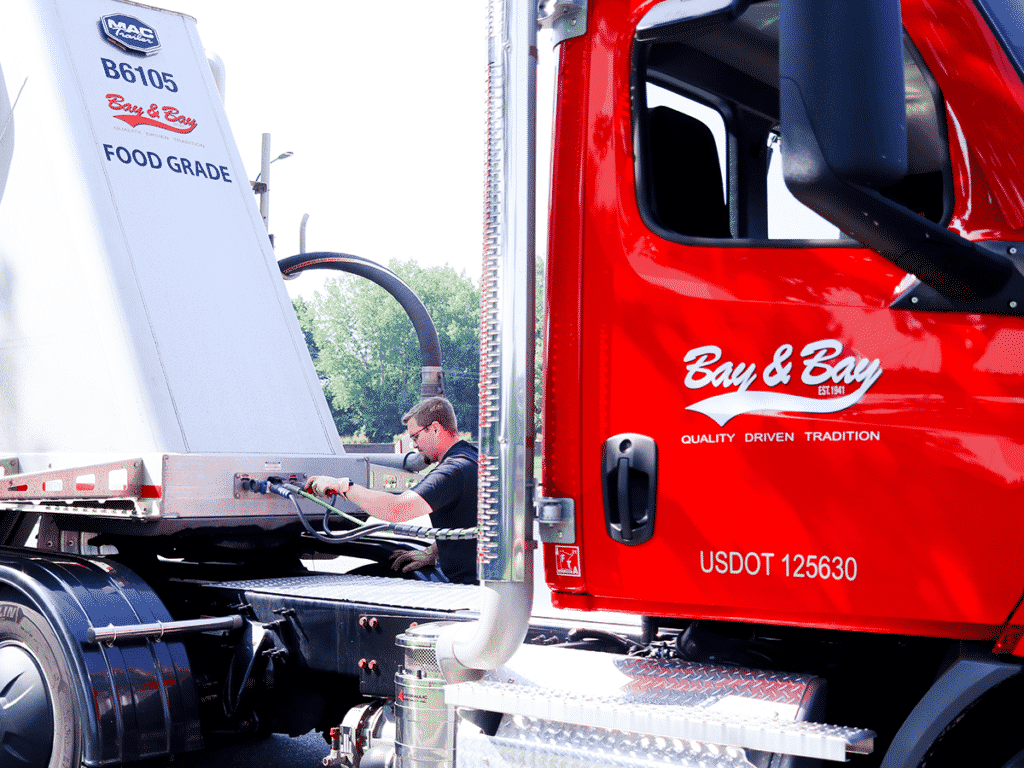 Team Dedication
At Bay & Bay, we offer results, not excuses. No shipments are complete without the help of our professional drivers. Our drivers understand the expectations for handling kosher freight, meeting deadlines, and above-and-beyond service every step of the way. This includes all our certified kosher trucking and the extra attention they require. Be proud to work with a family-owned company that values customer-focused service from start to finish.
Cleaning Protocols
We know you rely on shipments arriving free of contamination. In this context, cleanliness does not just mean erasing dirt and bacteria. Eliminating any chance of cross-contamination is a cornerstone of proper certified kosher truck shipments. All of our Bay & Bay kosher drivers in the US and Canada are thoroughly vetted for this reason. Detailed training is provided to staff regarding our cleaning procedures and preventing any possible contamination of kosher and non-kosher cargo. Therefore, when our equipment is cleaned, all proper steps are taken to maintain the integrity of the load.
Final Thoughts
When it comes to properly transporting certified kosher shipments, this is not our first rodeo. Rest assured that with decades of experience in kosher certified transportation, you have come to the right place. Please reach out and request a quote with our Bay & Bay team for all your transportation needs.