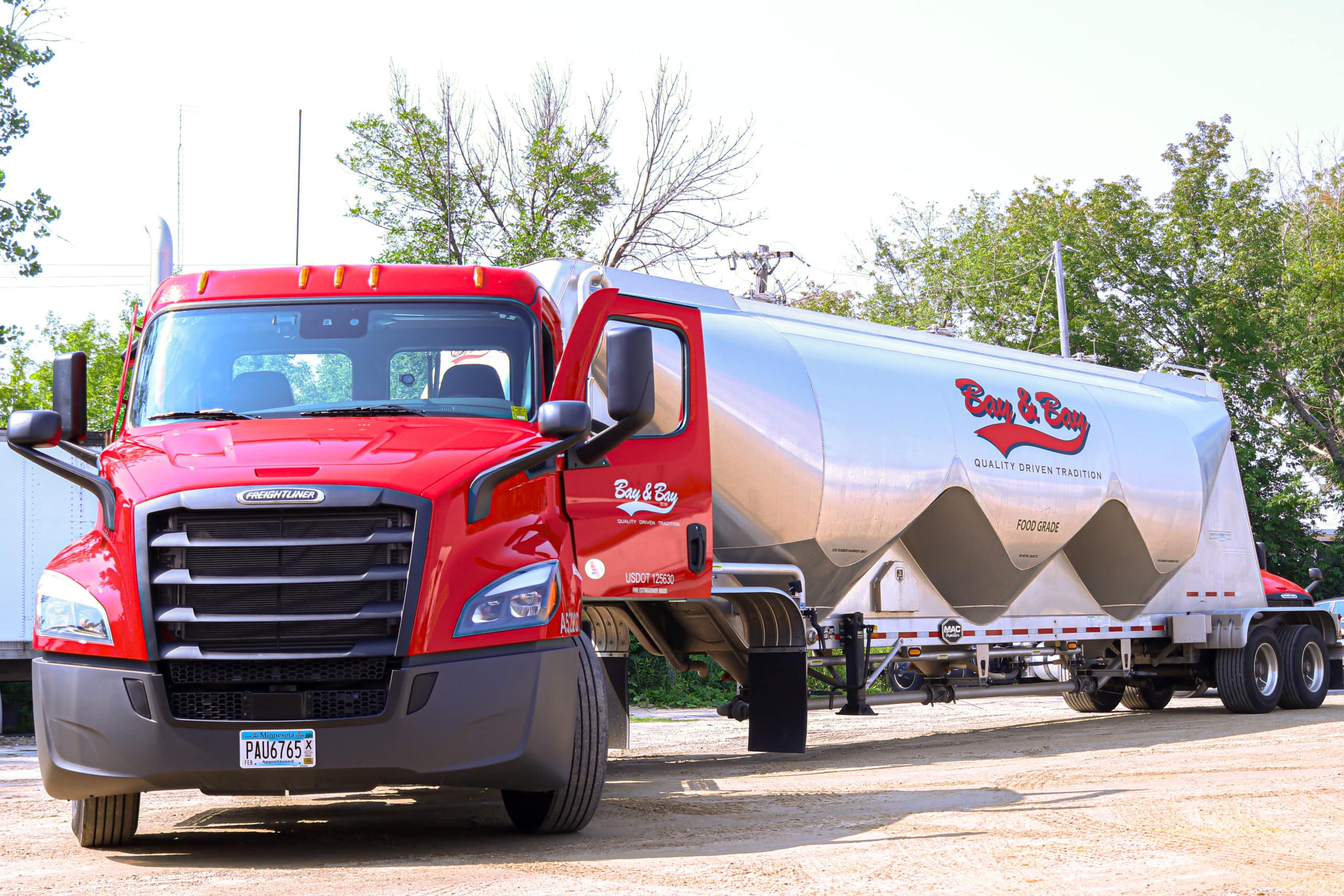 Dry Tank
We offer results,
not excuses.
Dry Tank Transportation
Bay & Bay Transfer is the Twin Cities' premier transportation company specializing in full-service dry tank transportation, both food grade and non-food grade, throughout the US. With multiple trailer options to select from, and an in-house logistics team, Bay & Bay has the right equipment and personnel to meet your specific transportation needs.
Contamination-Free
We know the importance of keeping your load contamination-free. Our trucks and trailers undergo rigorous standards for cleanliness, and our drivers receive detailed training to prevent contamination. You can depend on Bay & Bay to responsibly transport your dry tank load anywhere in the U.S. or Canada.
Food Grade
At Bay & Bay all of our food grade trailers are dedicated to specific food products. We know how important it is for our customers to receive uncontaminated shipments. All trailers are meticulously cleaned inside and out. Food Grade products transported are:
Salt
Sugar
Agricultural Products

Select Bay & Bay Trucks are under Kashrut supervision and endorsed by UMKosher (United Mehadrin Kosher.) Accordingly these trucks are Certified Kosher to haul Kosher loads of food products.
Non-Food Grade
We specialize in the movement of dry bulk products with a variety of trailers. Our pneumatic trailers are dedicated to specific products which include minerals, sands, cements and byproducts.

A partial list of materials we haul includes:
Sand
Clay
Bond
Quartz
Lime
Coal Slag
Fly Ash
Cement
On Time Delivery
Bay & Bay offers results, not excuses. We understand time-sensitive freight. When you need your product delivered by deadline, count on us to get it there on time.
Dependable Drivers
We know our customers expect the best in equipment and operators. Bay & Bay only hires experienced drivers with impeccable safety records and dedication. Our number one priority is safety, while making sure our customers receive excellent service and on-time deliveries. We're proud to say we have one of the lowest driver turnover rates in our industry.
Modern Equipment
Bay & Bay invests in new equipment regularly to ensure better fuel economy, minimal maintenance and breakdowns, no environmental contaminants in your product, and overall safe travel.
Sophisticated Tracking
A successful business keeps its finger on the pulse of its product's journey. Bay & Bay leads the industry in continuous tracking and communication between drivers and clients. By using QUALCOMM tracking and EDI technology, we provide load tender, freight invoices, load confirmation, status reports and customer acceptance shipment status on demand.

Work With Us
We know our customers expect the best in equipment and operators.
Give us a call today!