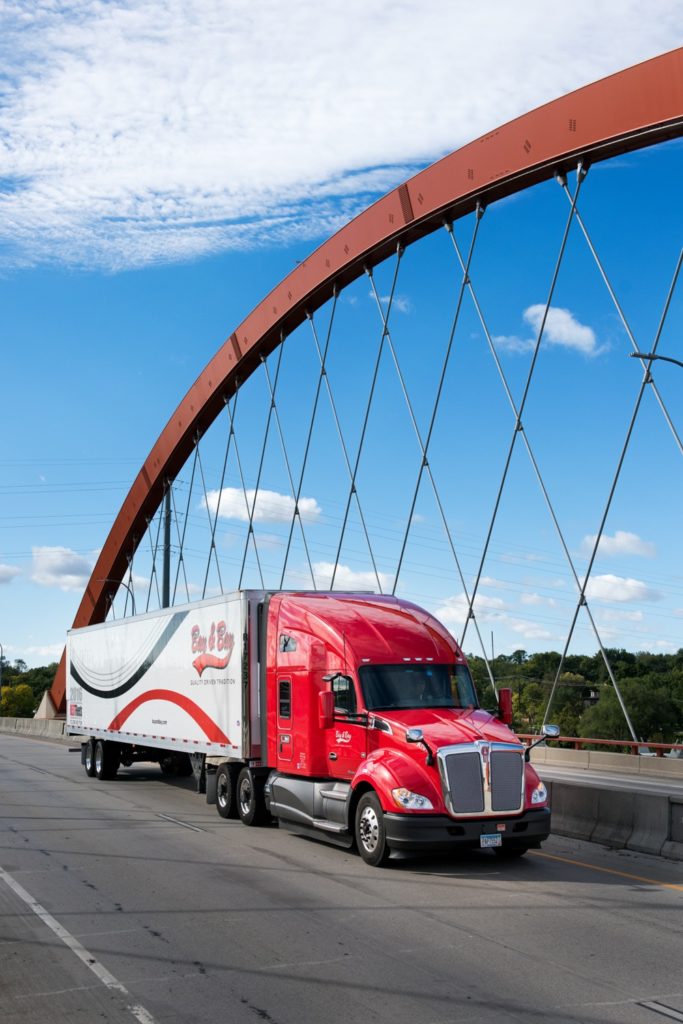 Bay & Bay Transportation understands the effect businesses can have on the environment. That's why we have rolled out a new incentive program that is good for our drivers and the environment. Fuel efficiency saves money and time, and our new "Focus on Fuel" program helps us pass those savings on to the drivers through quarterly and bi-annual bonuses.
The Bay & Bay "Focus on Fuel" program was launched 4th quarter of 2013 for our existing company truck drivers. We've split our trucks into four separate groups with different MPG targets of fuel efficiency. During this 3 month period that ends on December 31st, 2013, drivers have the chance to become acquainted with the trucks they have been permanently assigned to drive. During this period, they have the ability to increase their cent per mile bi-annually. Any company drivers hired on or after January 1st 2014, uses the first period of measurement to develop the skills to exceed the MPG goal and earn more during the next period of measurement. The money that truck drivers save by being fuel efficient is passed on to them in the form of bonuses.
Bay & Bay has two incentive programs in place. One program is geared at increasing the driver's cent per mile and the other is recognizing our top MPG performers by truck group. The cent per mile incentive gives the drivers the ability to earn above their current cent per mile pay. They have the potential of increasing their cent per mile with every .4 increase of MPG above the target that has been set for that specific truck group. This will be measured bi-annually.
The other incentive is measured quarterly; the drivers with the highest percentage above targeted MPG will receive a quarterly monetary bonus of $2500 and the chance to earn the annual bonus of $10,000. In contrast, failure to meet the expected MPG is a loss for Bay & Bay and will result in a deduction from the driver's quarterly mileage bonuses.
Tools and Training
Since we expect our truck drivers to meet these expectations, Bay & Bay provides the tools and training that drivers need to perform well. A simplified rundown of our fuel efficiency tips include:
Keeping speeds near 55 to 60 mph
Eliminating unnecessary idling
Using cruise control when safe to do so
Avoiding hard acceleration or hard braking
Keeping tires properly inflated
Shifting within the range of the engine's "sweet spot"
All in all, the "Focus on Fuel" program is very simple and straightforward. By drivers paying attention to their trucks and driving habits, Bay & Bay Transportation saves money, and our drivers earn more. Quarterly qualifications are easy to meet:
Must log at least 30,000 miles within the quarter
No preventable accidents/incidents during the quarter. If so, the diver is ineligible for the quarter bonus for that quarter and annual reward bonus. However, they may still qualify for future quarterly bonuses.
Can only win top quarter performer once per year
In the event of a tie, the driver with the most miles will win.
As our launch period is winding down and we begin moving into the assessment period, Bay & Bay Transportation is proud to see that most of our drivers are meeting and exceeding the MPG expectations in all four categories. Keep up the great work team!
It's not too late to join the "Focus on Fuel" program, either. We have a system in place for those that join Bay & Bay Transportation after the launch period. Contact Bay & Bay Transportation today to learn more about our available truck driving jobs.