You may know that many people like to take their dog or cat with them on the road. As a truck driver you can do the same- in fact, there are many benefits to having a pet ride along with drivers. As a fleet driver, you can feel lonely and jaded driving long nights and days on the road all by yourself.
You will be glad to know that to combat this concern, many trucking companies in the US, such as Bay & Bay Transportation, allow truck drivers to bring their pet dog or cat along for the ride. There are about 3.5 million truck drivers on US roads according to the American Trucking Association.
Note that many of those truckers don't go at it alone. Did you know that canine companions are now becoming an essential part of the truck driving lifestyle?
Benefits of Trucking with Your Pet
Keep in mind that companion animals or pets are good for you for many reasons. For instance, medical professionals who also drive the new Craftsmen medical vehicles state that the mere act of petting your pet can lower your heart rate and reduce stress.
Here are some excellent ways your pet dog or cat can improve life on the road.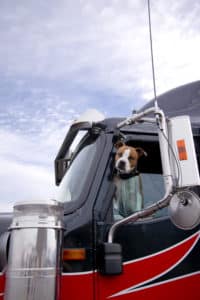 Good for the Soul
Just consider how happy and joyful you are to have your pet dog or cat with you in your home. Note that having your pet with you, especially while driving long distances is no different. This is because their presence causes your stress levels to go down.
This can have a calming effect on your overall mood. As a trucker, you may spend days, sometimes even weeks, away from your home. However, keep in mind that taking Fido or Fluffy with you will provide some company. Did you know that pets can lower your feelings of loneliness? They can increase your happiness just by coming along for the ride.
They Keep You Active
Your pet needs exercise, and that usually means walks or even a game of fetch. While it is difficult to stay active on the road, it is essential because long hours of sitting and leading a sedentary lifestyle are not healthy for your body. A highlight of bringing your pet is that they will keep you moving in between trips.
Personal Security
It is no secret that being on the road, especially late at night, and sometimes sleeping in your truck might not be the safest choice; however, it is part of your job.
Another benefit of having a pet is that it can provide you with an added sense of protection and may deter theft and reduce the risk of break-ins. As a result, you can relax a little knowing that your best pal has your back. Bay & Bay Transportation's pet policy is $50 per week up to $500 fee (1 dog or 1 cat; 50 lbs or less). There is no fee for service or support pets.
Final Thoughts
Dogs and cats are wondrously adaptable. So, they make perfect companions when trucking is your profession. Take advantage of offers from companies like Bay & Bay in order to reap the benefits of having a pet ride along with drivers.