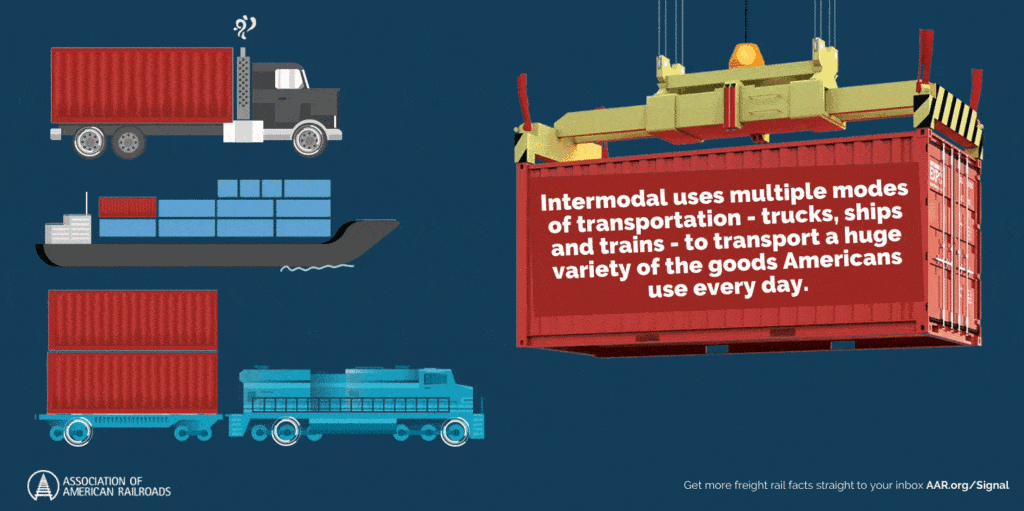 Intermodal shipping is the process of using two or more different modes of transportation in moving goods, often over 700 miles. We at Bay & Bay have over 50 years of intermodal experience, in shipping and logistics. With direct access to all class 1 railroads and private-asset providers, we offer multiple service options including standard and expedited service across North America, as well as personalized attention, mode/load optimization, and proactive accessorial management. We also have relationships with major ocean carriers to access their equipment for domestic re-positioning to benefit you and your goods. Are you interested in learning how intermodal shipping can benefit your business? Keep reading!
As a trusted third party logistics provider, we bring you supply chain capacity with quality you can count on. Each carrier within our network follows a strict vetting process, allowing us to work with only the best. We are an active member of the TIA (Transportation Intermediaries Association), the TCA (Truckload Carriers Association) and the IANA (Intermodal Association of North America).
As a licensed, bonded and insured Logistics company, our network consists of thousands of qualified carriers and related service providers across North America. Road or Rail, rest assured we've got you covered.
How It Works
So, how does it actually work? To begin to understand if intermodal shipping is right for your business, we first have to learn what it is. As previously mentioned, intermodal uses multiple ways of shipping, most often truck and rail but also ship, to move product long distances. A key aspect to intermodal is that the goods are in the same container from start to finish. First, the container is picked up, loaded into a dry trailer or a specialized 53-foot container, and then delivered to a rail yard where it gets a ride to where it needs to go. Then, it's transported to its destination by truck again.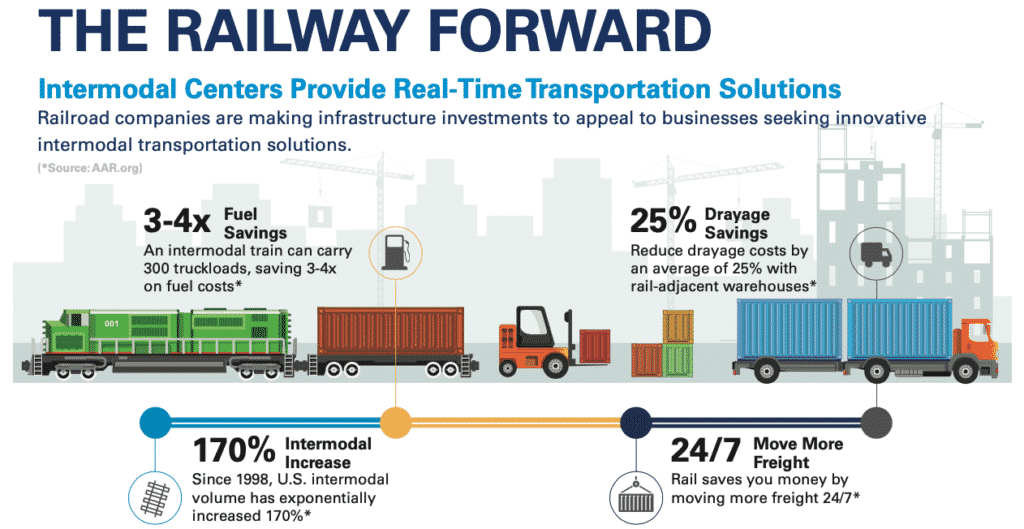 Benefits of Intermodal
Choosing Intermodal as a mode of transportation will benefit you in many ways. Firstly, shipping via Intermodal is a green choice. By shipping via train, it removes the need for 280 trucks on the highway. Do your part to improve air quality by using this carbon footprint-reducing option! Second, intermodal shipping with Bay & Bay offers access to thousands of containers for every shipping need. In addition to those reasons, you will also find that intermodal increases cost savings, provides you with daily tracing records, and is drop trailer/container pool friendly.
How to Know If Intermodal Is Good For Your Shipments
Deciding which mode of transporting your goods is best for not only them but your company as well can be a challenge. How do you know if your shipment would benefit the most from shipping intermodal? You first should consider if you are in need of drop containers at the shipper and/or receiver. Next, is your haul going farther than 700 miles? If so, intermodal could be your best choice. You also should think about the origin and destination of your cargo— if they are near rail ramps, use intermodal! Lastly, intermodal shipping could be right for you if you are looking for cost savings when comparing to Over-the-Road (OTR). Shipping via train is a very economical option as prices are often consistent, though this can change based on demand and season.
Choosing a top intermodal logistics provider is key in ensuring your goods get where they need to be, when they need to be there. Bay & Bay, with our 50 years of experience, is a top provider of these logistics services. The experienced staff at Bay & Bay knows the ins and outs of working with rail carriers. We'll select the best routing and schedule for your specific transportation needs. You get the savings of rail, combined with the convenience and reliability of over-the-road. Shipping Intermodal has never been easier! Want to learn more? Reach out to us.