A career in trucking and transportation can seem scary for most. After all, The Bureau of Labor even ranks truck driving as one of the most dangerous occupations in the US. This data can sound daunting and may shock you. Luckily, staying safe as a driver can be accomplished with a few preventive truck driver safety tips.
In our previous posts, we discussed must-have essentials to pack for a worst-case scenario. We also discussed the benefits of driving with pets, both for companionship and your personal safety. Here are three essential truck driver safety tips that take this one step further and prioritize your safety.
Take Your Breaks.
Running on schedule is a cornerstone of logistics. Unfortunately, this can put unwarranted pressure on drivers to uphold tight schedules. Those who manipulate drivers to skip their breaks, drive above the limit, and cut corners to benefit the rest of the supply chain are part of a very serious driver safety issue that needs more awareness. Therefore, our #1 tip for staying safe as a driver is to know your rights, taking full advantage of your break times.
Under the Department of Transportation, you are legally allotted a 30-minute break after 8 hours of driving, and a 10-hour break for longer trips. There are some exceptions and additional caveats, so we recommend reading Hours of Service (HOS) laws.
At Bay & Bay, our priority is always driver safety. If a customer ever pressures you to "muscle through it" or skip your HOS break, let your supervisor know immediately. Taking breaks to stop and recharge is crucial for the safety of you and everyone on the road. A well-rested driver is a safe driver.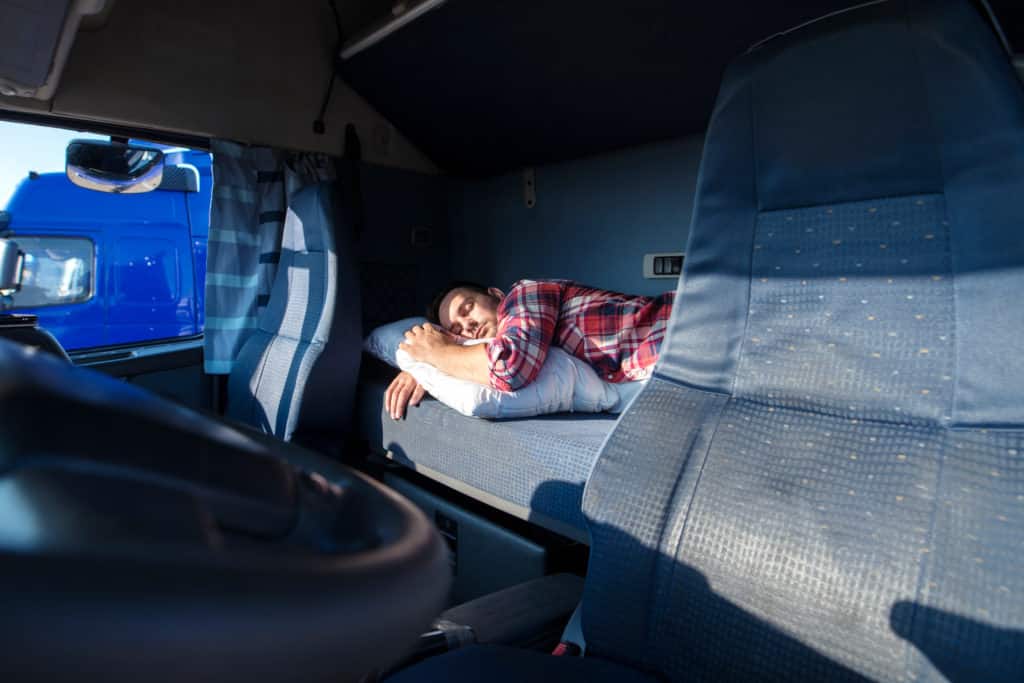 Plan Ahead.
Unfortunately, driving through less-than-desirable locations is a necessary evil of the job. A typical route may entail several different rest stops, bumper-to-bumper traffic, and even being stuck in a snowstorm.
Stay safe as a truck driver by researching your route before you leave. For example, planning ahead can mean checking the weather along the route, with an emergency plan in case you hit unsafe weather. When anticipating traffic, use your trucker's GPS to find the safest route. When looking for a place to stop, read online reviews to find the best place to rest.
Truck stops and rest areas can be scary places to stop, especially for women truck drivers. Listen to what other women have to say by reading Yelp and Google Reviews before an upcoming trip. Avoid any rest areas that give you a bad gut feeling. Instead, stay safe as a truck driver by opting for safer and better-lit locations. With a few minutes of planning, you can both detect and avoid very dangerous situations before they happen.
Don't Forget the Basics.
Research proves women truckers are safer than their male counterparts on the road, with more miles driven and fewer accidents! With that said, we all can use a refresher on key truck driver safety tips for the road. Increase your following distance when on the highway. Slow down when turning and exiting the highway to prevent your rig from overturning.
When exiting the rig, exercise general caution as well. Try to stay in well-lit areas when walking alone. Keep your head on a swivel and make eye contact when passing by others. Lastly, always lock your doors as soon as you get back in the cabin. These may seem like elementary and surface-level tips, but they are worth their weight in gold.
Final Thoughts
Being a woman in transportation can be nerve-wracking. The extra layer of staying safe as a truck driver is even harder. While tractor-trailer drivers take on a more dangerous role than others, our loyal truck drivers are undoubtedly crucial for our supply chain. With the help of these key safety tips, we hope we can give you the tools to prioritize your security and protection as a tractor-trailer driver. There is room for you in trucking, and you are worth protecting. We are in this together!